Photovoltaic glass
Photovoltaic glass is a great solution for the construction industry – this solar solution is renowned for its long lifespan and high levels of mechanical resilience.
When it comes to configuring PV modules, personal safety and residual stability are equally important. Here at Solarwall, we use laminated safety glass. This solar glass still offers protection even when damaged, as it consists of several panes of glass bound together in tear-resistant foil.
Solarwall works together with local and international manufacturers to offer a wide range of photovoltaic elements in a variety of colours, models, sizes and levels of transparency. We are certain that we can find the right PV module for your project.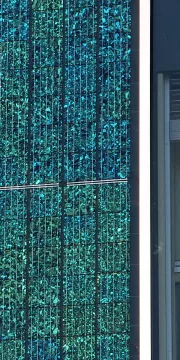 PV façade modules and coloured PV modules
Solarwall provides photovoltaic glass that can be used to design customized active solar façades. Thanks to the technologies developed in recent years, we can create unique and individual solutions. A range of colours, models and levels of transparency make it possible to create truly one-of-a-kind photovoltaic façade systems.postman
Possible applications
Façades
Ventilated façades/rainscreens
Elements providing shade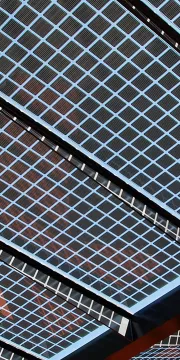 Transparent photovoltaic glass
Embedded crystalline solar cells mean that PV modules can be integrated into window panes and other glazing without any loss of transparency, while also providing protection from the sun as well as privacy. Semi-transparent photovoltaic glazing is an elegant solution that, like blinds, offers protection against UV rays while also having the power to generate electricity.
Are you looking for more light or increased protection from the sun for your project? Would you like a unique solution for your balustrade? Solarwall offers a wide range of solar glass designs that can be configured in line with your objectives
Possible applications
Façades
Handrails (balustrades)
Glass roofs
Pergolas
Elements providing shade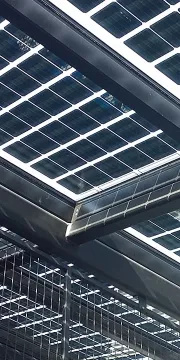 Insulated glazing
In order to improve insulation, Solarwall can also draw up recommendations for double or triple glazing. Insulated glazing can be designed with different qualities on the interior and exterior glazing, as well as with different colours and light permeability. It is also possible to use partially opaque photovoltaic glass or solar glass with gradual transparency.
Possible applications
Windows
Glass walls
Roof glazing
Elements providing shade
Which types of photovoltaic technology do Solarwall solutions utilize?

Solarwall uses technologies available on the market that are well-established for use on buildings – longevity is a key pre-requisite of any solar solution. The most common types of photovoltaic technology are mono- and polycrystalline solar cells. However, it is also possible to consider other technologies, such as thin-film solar cells, depending on the requirements of the specific project. Solar façades and complete glazing solutions are always made from laminated safety glass.

This technology has been used for many years in the building trade and is manufactured by specialist companies.

Photovoltaic technologies available:

Monocrystalline silicon
Polycrystalline silicon (Si)
Amorphous silicon (a-Si)
Copper indium (gallium) selenide (CIS/CIGS)
How does the transparency of the solar glass affect its performance?

As a general rule: the more opaque the solar glass, the more light it converts into electricity. When it comes to choosing and planning solar projects, it is essential to find the correct balance between light permeability and electricity yield. Generally speaking, a transparency of between 15 and 40% works best.
Which factors affect the price of photovoltaic glass?

The price of a BIPV solar module is largely determined by its dimensions: on the one hand, the dimensions define the static restraints, but they also define the frame for possible glass compositions and aesthetic requirements.